Hello Dear, Are you looking for wedding Invitation Templates, I will share with you free and printable Wedding Invitation Templates.
personalize your wedding invitation in just a few minutes using our beautiful and customized Wedding Invitation Templates.
best wedding invitation card template on white background with red roses.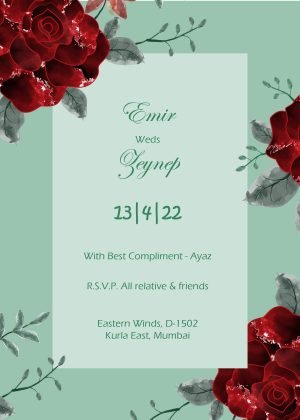 watercolor floral design invitation card template simple and beautiful.
wedding invitation template with floral on white background mixing some green color on the background.
Dark yellow background looks as a golden best simple invitation design.
I hope you will be inspired and fall in love with our beautiful and attractive timeless wedding invitation templates.
it's all designed by our team you can change color or theme as your choices
why needs Invitation Templates
because invitation templates save your precious time there are a lot of wedding invitation templates
available on the internet, but we are sharing with you some templates created by our team
hope you like these.
also if you need any type of customization feel free to contact us. we will customize it as your choice.
Some Free Wedding invitation templates
yes, also we want to share some free invitation templates by Freepik
let's see how it looks they are designs
Also check this
Download free in eps templates from Freepik
Right now we're working on it some more templates designs, that will be uploaded soon
Indian Wedding Invitation Templates
Now I will share some Indian wedding invitation card designs so let's begin. and choose your own
Indian wedding invitation card template with dark and light cyan background
if you want some dark color for your wedding invitation card you can select this.
this invitation design is really cool I also like this best floral border for the groom and bride.
If you want to Print your Wedding Invitation look like these.
if you want to print your own wedding invitation you can click here
if you are looking for a wedding invitation video for sharing on WhatsApp you can order me on +91 7052057157
here are some examples of wedding invitation video
any kind of custom wedding invitation you can contact me on Whatsapp or email: [email protected]
you can also check this shutter stock wedding card design if you have a subscription plan.